My crochet addiction started with knitting. For years I had been more of a drawer and painter. Usually I would draw or paint something every weekend. Then it dried up. For some reason I just wasn't feeling it anymore. I was kinda beating myself up about not being disciplined enough and not creating enough but on the other hand I didn't want to force myself to draw and paint and then end up hating it. I knew the desire to draw and paint would come back to me eventually. So I started looking for something creative to do during my hiatus. I gave myself a break, stopped beating myself up about not drawing and painting and decided I was going to knit a scarf.
This was the result:
It ended up being an infinity scarf and as it was made out of 100% wool yarn it was super warm. Seriously warm. Maybe too warm, because of course that winter was one of the mildest ones we've had in a long time. So it didn't end up getting much use. Sad face.
BUT, in the process of making this scarf I started using Pinterest to find patterns and learn some new tricks. Pinterest is honestly a god send and a horrible enabler for people with the crafting gene. I mean holy SHIT there was so much to make!
What I did spot was that there was a crazy load of different crochet patterns out there. In particular, I saw some crochet lace patterns and was immediately feeling determined. You could do so much with crochet! And to me it just seemed so much more straightforward than knitting. If you want to do some more detailed knitting you gotta have a lot of tools too.
So I was browsing Pinterest today when I came across something truly ridiculous. Cat anus coasters. You really can crochet ANYTHING if you put your mind to it. This is the perfect example of how much you can do with crochet.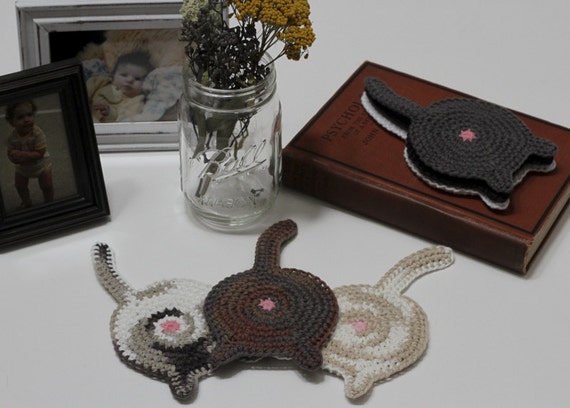 By hooksandballs
I dunno why anyone would think that crocheting cat butts is a good idea, but this person seems to have really cornered a niche market!
It reminds me of that Bob's Burger's episode. IT'S ART!